ACCOMPLISHMENTS
Obtained support for a Crown Heights North historic district from local elected officials and Community Board 8.
Held bi-monthly general membership meetings regularly since September of 2002. These ongoing community meetings have featured speakers from city agencies and a variety of community organizations.
Created and distributed a directory of local merchants and their services.
Hosted Historic District panel discussions in May 2006 and 2009.
Hosted a Predatory Prevention Workshop in April 2007.
Held our 8th Annual Holiday House Decorating Contest in 2010.
Secured Landmark Designation for Phase I in 2007.
Successfully garnered media coverage of the progress of CHNA Historic District designation.
Hosted first Crown Heights North Walking Tour and Garden Tea, June 2007
Hosted the first Crown Heights North House and Garden Tour, October 2007, with successful tours now held every October.
Succeeded in having the LPC calendar Phase II of CHN Historic District in October 2009, with official designation to take place in 2010.
CHNA President Deborah Young Honored at Herstory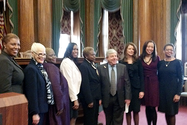 in celebration of Women's History Month Brooklyn Borough President, Marty Markowitz recognized the accomplishments of " honorees who follow in the tradition of outstanding women in Brooklyn 's Herstory.
Deborah Young is the recipient of the Lucy Burns Activist award.
---